Have you ever wanted to live in a place where you could explore, but never had the chance to see the wonderful features that BC may have to offer? What better way to enjoy the sight of pristine wilderness and ocean views, than from the comfort of your own rental cottage? Bear Cove Cottages located in British Columbia offers you the chance to connect with nature, then return for a restful evening in one of their immaculately kept cottages, surrounded by the wilderness of Port Hardy. They offer you a chance at having your very own home away from home vacation adventure while also providing you with a cozy place to stay during your getaway. With packages that include:
Studio cottage for couples. Every studio cottage has a spacious surrounding deck to enjoy nature while sipping your morning coffee! Single king-sized bed also included in every cottage.
Group cottages, which can sleep up to four adults comfortably. These cottages are outfitted with queen-sized beds.
Family cottages for you and your family, sleeps up to six guests comfortably. These cottages offer a functional kitchenette and barbeques to help you prepare fresh meals or fish caught from the ocean.
You even have the option of renting one of the cabins for an extended stay during the off-season if you end up falling in love or need a long-term rental! Wireless high-speed internet and weekly maid service are included with long term rentals. Bear Cove has you covered!
Once you have rented a cozy cottage, you might be wondering what things there are to do around Port Hardy. Bear Cove Cottages offers different vacation packages that include charter fishing at Wicked Salmon Sports Fishing Charters. The location is perfect for hooking the biggest fish in the area! Bear Cove and Wicked Salmon are the only All-inclusive Halibut, Salmon, and Rockcod fishing destination in Port Hardy. Worried about planning? Wicked Salmon has you covered there with various packages! All packages include fishing license and gear, your own personally guided boat, lunch, and beverages provided as well as paid dinner of your choice in the town of Port Hardy. *Call ahead and verify fishing license is included in all charter packages.  *Alcoholic beverages are not included in the packages.
Looking for a wildlife adventure package but not sure what to do?
Have you ever been on a Grizzly Bear tour? Did you know that Port Hardy has one? Bear Cove provides a custom-made vacation plan to help you with the grizzly pain of planning. Included as an option in your custom plan, Tide Rip Grizzly Adventures provides an epic adventure full of wildlife and the beautiful nature of British Columbia. From the safety of an aluminum covered boat, your adventure awaits to explore black bears at low tide, bald eagles and other birds in the skies, porpoises and seals, river otters, and even dolphins!
*To respect the natural distance needed for the local wildlife, everything is viewed from a close enough distance, but not too close.
Maybe a Grizzly Bear tour is not your thing? Port Hardy has a wide variety of nature walks and trails for a more up close and personal experience with nature.
Quatse Loop and Estuary Trail, where you can follow along the edge of the Quatse river and enjoy a wide variety of wildlife and the natural beauty of the riparian setting.
Port Hardy Seawall, a nice gentle and easy stroll along the seawall with sights of neighboring isles and coastal views of mountain ranges on a clear day.
Want an exhilarating hike? Commuter Trail has seven hills to climb between Stories Beach and Port Hardy. Connect with the steps of Hardy's ancestors along the traditional route of the Kwakiutl Nations. This hike recommends water and appropriate footwear.
Tex Lyon Trail offers a tougher terrain for any hiker who likes a good challenge. Eight hours of round-trip trekking through old-growth forest stands and to the rocky shoreline of Beaver Harbour. The terrain is difficult and recommends proper equipment with food and water.
Raft Cove, San Josef Bay and Cape Scott, and North Coast Trail to name a few more to discover and explore!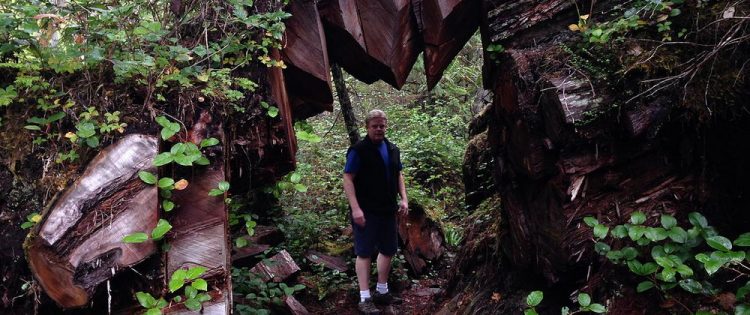 Whale watching is also an exciting option available to you with Bear Cove Cottage's vacation package.
 
You will have the chance to enjoy a three-hour tour with Mackay whale watching in Port McNeill, with the possibility of spotting Humpback whales. Once on the brink of extinction, they are now seen regularly on the tours due to the abundance of herring that the whales eat. The fast-flowing and nutrient rich waters of the sound help the herring thrive and bring the whales back every year to feed. It is also one of the best areas to spot the mammal-eating killer whale. There have also been sightings of the Pacific White-sided Dolphin! With beautiful waters, scenery, and comfortable, cozy cottages, you will not miss out on your home away from home adventure at Bear Cove Cottages!