Are you sick of looking at the same 4 walls, while dreaming of the vacation you and your family so desperately need but are unable to take due to ongoing travel restrictions?
How about a memory-making getaway that is also close to home? Whether it's pulse-pounding excitement, and adrenaline-filled fun you seek or relaxing with a good book and a warm drink in a quaint cottage on the water, at Bear Cove Cottages and Wicked Salmon you're covered, and sure to find something for everyone in your family!
Ideally located in beautiful Port Hardy BC, on Northern Vancouver Island is where you will find Bear Cove Cottages and Wicked Salmon.
Port Hardy is home to some of the world's best Halibut, Red Snapper, and Ling Cod around, here Wicked Salmon will offer you the chance to sink your hooks into some of the oceans toughest fish, where you're almost guaranteed to have the time of your life doing it, making memories to look back on, and endless stories to share as you relax in a comfortable cottage that is sure to feel like your home away from during your stay.
Some of the fish you can hope to see, and take home with you are Halibut, Red Snapper, Ling Cod, Yellow Eye, and Quill Back, along with endless rock piles throughout the area that attract an abundance of different fish just waiting to be conquered!
Pick your day of excitement from packages available, The Halibut Package includes:
A personally guided 27 foot Grady White
All of the gear and tackle you will need, including your fishing license
Lunch
All non-alcoholic beverages, water, pop, juice, and coffee are all available onboard (alcoholic beverages are not provided)
Your choice of a wonderful dinner from various restaurants located in the town of Port Hardy
Stress-free processing of your catch, custom cuts, vacuum sealed, and frozen, ready for your trip home.
If Salmon is instead the fish for you, then you can take advantage of the only all-inclusive salmon fishing package in the area!
With the Salmon Package, you can expect to get everything included in the Halibut Package, with the chance to bring home a massive Chinook, or Wiley King Salmon, and you can't forget the great Coho, Silver Salmon, Sockeye, and the Chum. A large variety of some of the best salmon in existence is here waiting for you to come and reel them in!
You get everything wrapped up into this phenomenal package as you do in the Halibut Package and just might manage to bring home a massive Chinook, or a wily King Salmon. You also have the feisty Coho or Silver Salmon, and one can't leave out the Sockeye and Chum. A large variety of monster Salmon are waiting for you to reel them in, face them down, and take them home to have a celebratory feast.
These kinds of deals can't be beat when it comes to fishing!
The quality of the experience is a once in a lifetime moment and will forever remain with you as memories to look back on, and share with family and friends for years to come.
Pulse-pounding excitement and adventures for everyone, that you're sure to remember are waiting for you at Bear Cove Cottages and Wicked Salmon! What are you waiting for?!
If fishing isn't quite for you, you can instead grab a good book, along with your favourite beverage, then put your feet up, and relax with stunning views of Port Hardy that you won't find anywhere else, all from the comfort of your beautiful quaint cottage, that is sure to feel like your home away from home!
Variety is the spice of life and finding a place that offers so much is rare.
Imagine waking up to a fresh, beautiful morning, stepping out of your cottage to watch the sunlight dance, and play on the sparkling water of the Port Hardy bay. Breathing in the fresh air, while hearing the faint calls of animals from the untamed, and breathtaking wilderness that surrounds you.
That is a moment in time and a feeling that you are sure to always remember!
When you've finished with your adventures for the day, or just want to chill out in the quiet, relaxing atmosphere there are several cottages to meet your every need. Bear Cove Cottages is sure to have something for everyone!
With self-contained Studio Couple's cottages that provide the perfect setting for that private, one-on-one time you crave with your significant other. Enjoy your morning coffee while taking in the beautiful sunrise, and enjoy a quiet breakfast on your spacious deck, or spend the afternoon cooking lunch together in your cottage's kitchen.
If you get restless, take a walk and enjoy the views surrounding the cabins, and when night falls, take some time to wind down, taking advantage of the wonderful jacuzzi bath.
Afterwards, you can sit beside the warm gas fireplace and talk about the wonderful day you've had.
All Studio Couples' cottages contain a King Size bed giving you the room you need to relax and enjoy your vacation.
If you need something to accommodate a larger group, or family, there are family cottages as well, which comfortably house, and sleep up to 6!
Each unit comes with a fully stocked kitchen that's ready to meet all of your family's cooking needs, giving you the freedom to prepare your meals the way you enjoy them. There are also barbeques ready to be fired up while you relax on the spacious deck.
This cottage is like a home away from home and just waiting for you, and your family to come and enjoy all it has to offer!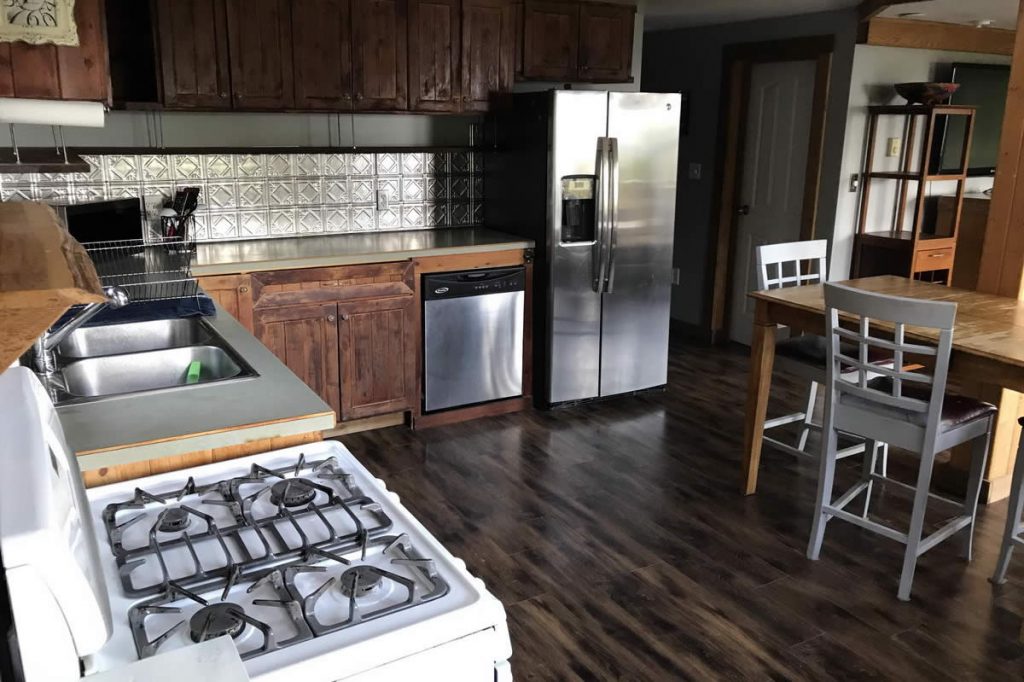 If you're planning an "Adults Only" getaway, there is also a wonderful group cottage, which accommodates up to four adults!
At Bear Cove Cottages, they understand that everyone needs a little adult time.
The group cottages comfortably house and sleep up to four adults. You can choose between bunk bed cottages or those that have two queen-sized beds. Both come with a kitchenette. If you take advantage of one of our all-inclusive fishing packages, you'll be able to cook your catch and sit on the spacious deck while taking in the spectacular sunset.
But that's not even close to all that is available to you!
There are also long-term rentals with weekly rates available in the off-season: October 1 – April 30.
This offer also includes:
Wireless high-speed internet
Weekly maid service.
Imagine spending a month here enjoying everything Bear Cove Cottages have to offer. A paradise of calm, nature, and the relaxation we all desperately need.
And still, they have more to offer you!
The North Island Package is designed to give you a taste of adventure, memorable activities, and top-notch relaxation all in one.
Not only do you get the accommodation of three nights in one of the luxury Bear Cove Cottages you also get 2 choices of these day tours and activities:
A 5-hour whale watching tour and lunch with Mackay Whale Watching in Port McNeill. The tour aboard their state-of-the-art boat can highlight large expanses of the vast neighbouring waterways. You never know where the dynamic Mackay team will end up!
A guided hiking excursion with North Island Daytrippers to a stunning North Island destination.
A first-class cultural marine eco-tour with Sea Wolf Adventures as their guides explore "Travel, Truth and Beauty" in the North Island wilderness with you.
Golfing at 7 Hills Golf Course: The North Island's best-kept secret.  This includes club rental, a power golf cart, and 18 holes.
That is an amazing deal for experiences that cannot be found anywhere else. The North Island offers so many fantastic activities, even offering the ability for you to create a custom package, tailored specifically to your wants! Some of the things offered at this unique destination are:
Whale Watching & Nature Tours
Kayaking
Sport Fishing
Sailing Charters in Sointula
Hiking and Beach Combing Trips on the West Coast
Using only the best local operators and striving to take the guesswork out of booking your vacation. There is even the Umista Cultural Museum that has many unique and picture-taking displays to help fill that vacation photo album.
With the variety of tours, packages, and accommodations offered, a vacation with Bear Cove Cottages will send you home with irreplaceable memories, stories, and the satisfaction of experiencing many exciting things in Port Hardy.
Whether it's fishing, hiking, perusing wildlife, or simply relaxing and enjoying the ambiance of nature, Bear Cove Cottages strive to meet your vacation needs. Here you may leave with a once in a lifetime experience that you'll still be sharing with others long into your golden years.
Port Hardy is a true destination vacation spot that offers up some of the best fishing, breathtaking views, rugged beauty, and unique tours sure to excite each, and every person joining you!